We are delighted to announce that Caredemy has recently been welcomed to Care England. Care England is a charitable organisation that benefits the care sector and offers practical advice on the running of care services. We are thrilled to have been accepted as a member. Our company was approved for membership on 2nd August 2021 by the Care England Chief Executive Professor Martin Green. This is a massive step forward for Caredemy and is a testament to our commitment in the highest quality training in the care sector.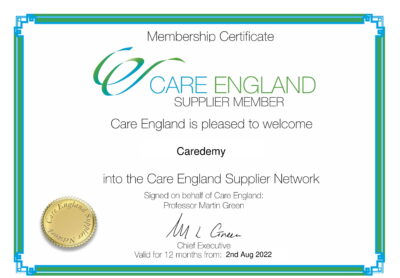 What is Care England?
Care England is a registered charity and leading organisation for independent care services in England. It works on behalf of independent providers of all sizes and is designed to speak on behalf of members, as well as on behalf of the whole of the care sector itself. Members of Care England include private care homes, national providers, voluntary organisations and training companies.
Care England is committed to ensuring the highest quality of standards in the care sector in order to achieve the best possible outcomes for their service users. This benefits a range of people who may be suffering with long term health conditions and physical or mental health problems. It's all about ensuring that the independent sector offers high quality and value for money and helps those who need it.
So where do we fit into all this? Care England also offer membership to independent training companies specialising in the care sector. This means that if you are completing your CPD training with Caredemy you can be assured that it is of the highest quality – written for professionals, by professionals.
The Benefits that Caredemy will gain from being a Care England Member
As a member of Care England, Caredemy will be in receipt of practical advice on the running of their courses as well as a number of materials to ensure that we are at the forefront of the social care sector. Care England provide their members with weekly bulletins, news updates and parliamentary wrap-ups.
Care England also offer members discounted prices for important seminars and events with the care industry such as the Care England Conference and Exhibition. They have dedicated advice lines for legal, HR and health and safety issues.
So what does all this mean? This means that you can be assured that all of Caredemy's training material is of the highest quality and always kept up to date. This is something that is extremely important in the care sector, especially in the current climate with frequent updates to the Covid-19 guidelines.
As a private training provider in the care sector, we also care about politics and policy changes. Through its Care England membership, Caredemy now has representation in Parliament and Whitehall and the ability to connect with local and national politicians. This is important because it is a route for our opinions to be expressed in parliament. When we are passionate about issues and developments in the sector we speak out about them, because it can make a difference.
Overall, we would like to thank Care England for welcoming us as a member and we look forward to working in collaboration such a fantastic organisation.